Stage 1.

If you found any crafts or craftsman's works on the category and would like to buy it, we can contact a craftsman directly instead of you. So please inform us about craftsman's name, product name, quantity you want to buy and other questions.
Stage 2.

We will contact directly to a craftsman instead of you and ask if they can sell the products you are interested in.
Stage 3.

After confirmation with craftsman about your offer detail, we will reply to you with quotation including the shipping fee from Japan. The shipping method is based on EMS.
Stage 4.

With your agreement, please place the formal order to us.
Stage 5.

Also please proceed the payment in advance of total amount to our bank account or Paypal account.
Stage 6.

Each Art Craftsman will start the production only for you after confirming the payment from you. If they have a stock of similar product, we will inform the detail of product with image files.
Stage 7.

We will send e-mail to you with the pictures on progress.
Stage 8.

After finishing the production, we will inform you about the shipping date and also we will confirm your shipping address to send the package for you.
Stage 9.

AAfter shipping, we will inform the tracking number by e-mail. You can trace the package from the EMS website.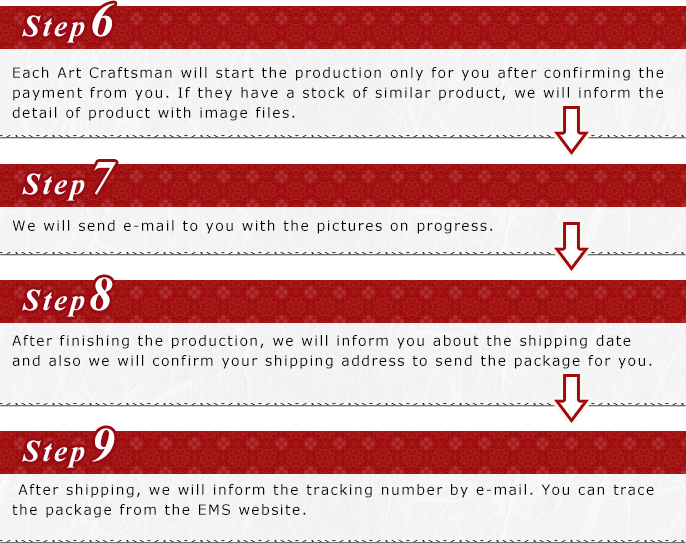 Page Top